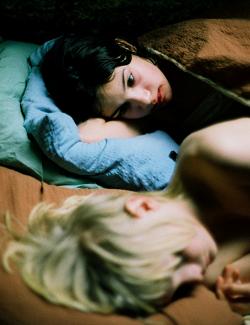 Allow me to rescind, fleetingly, my previous disappointment with the horror genre.
Let The Right One In
is an exceedingly rare and beautiful example and it earns its place in the pantheon of great horror films. I don't want to say that it's a film obsessed with things, because in truth it's not. It's subtle. But it is a film about our obsessions or, at least, a film which touches on mine.
There are things about childhood that we never can manage to leave behind: our first kiss, our first love, the teasing, scorning words of our schoolmates. For some these things provide comfort and for some a nauseous looking back. For myself, I have yet to think on my first love without regret and sorrow: I have yet to be truly free of it. The pain I felt at its end, of course, is not nearly so great and has been replaced by a kind of nostalgic sadness, because age has conspired to alter me. But it is still there, and I can imagine what the outcome might have been had I never been able to move on from that awful age of transition where my first love had its inception. Therein lies the horror of this movie: a 12 year old girl vampire who is neither a girl nor 12 years old - who can never grow old and never leave the dismay of that age, who can never escape the memory of that time, who can never transcend her appalling hunger and its violence - and a 12 year old boy who is taunted viciously by his schoolmates, who cannot escape them, is impotent against them and their own violence. Natural cycles.
Let The Right One In
is a movie about natural cycles. The first, blushing hint of love in the playground. The shy awkwardness of its approach. Its hesitant acceptance and the subsequent uncertainty. The discovery of our true natures. The vampirism of the female. Consummation. Symbiosis. All steeped in the horrible flesh tones of memory.
I don't want to ruin a film which is still in theaters. Go. See it.